Budapest Zoo Gorilla First to Receive Stem Cell Arthritis Treatment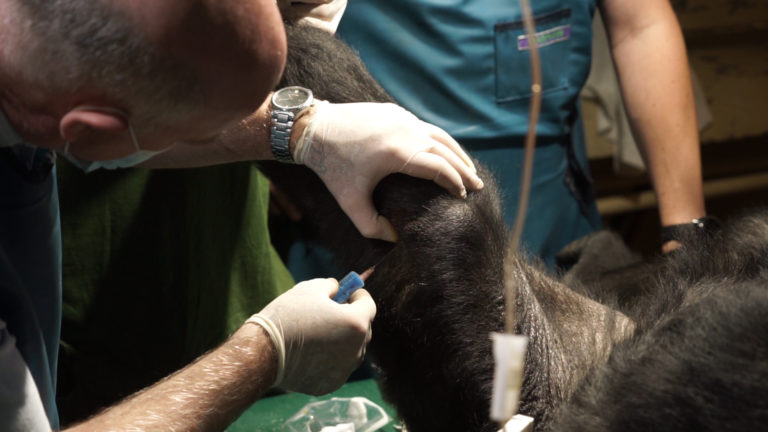 Liesel, the elderly matriarch in Budapest Zoo, has been finding it difficult to walk on her left leg for a while, suggesting she may suffer from osteoarthritis. 
A team led by Endre Sos (Chief Vet and Acting Director General at the Budapest Zoo) and Mark Wilkinson (a leading Orthopaedic Surgeon and international expert in the biology and treatment of human arthritis) recently carried out a comprehensive assessment of Liesel's significant joints and treated her left hip and knee with mesenchymal stem cells to treat her disease. 
The mesenchymal stem cells used for the procedure were isolated from a piece of fat tissue donated by Indigo, a young female gorilla who underwent a planned minor operation in 2022. 
A specialist team at Stem CellX isolated, purified and cultured these cells at their R&D base in Hungary, formulating a cell suspension that could be kept deep-frozen until needed for the treatment injection.

Stem CellX founder and Professor at the University of Sheffield, Endre Kiss-Toth, has collaborated with Mark Wilkinson to explore novel treatment options for human arthritis. They are now jointly leading a preclinical programme to test Stem CellX technologies for developing a similar stem cell treatment in human patients. The company partnered with Budapest Zoo recently to provide this treatment for their animals in need and supply Zoos globally. Liesel is the first primate in the world to benefit from this joint work successfully.
Professor Endre Kiss-Toth, founder of Stem CellX, said: "It has been a great privilege to be part of this word-first collaboration and bring together Stem CellX expertise in stem cell technologies with the internationally leading clinical skills and knowledge in OA pathogenesis of the University of Sheffield and thus provide a novel treatment option for Liesel to improve her quality of life in her golden years. We are now holding our breath and following her recovery closely, hoping to see a marked improvement in her movements and the use of her OA-affected leg."